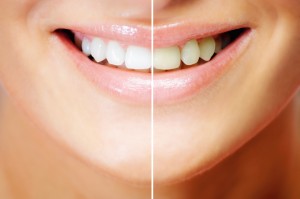 If you have stained teeth, smiling confidently can be difficult. As a result, instead of feeling like yourself when you're with friends and family, you can feel withdrawn or isolated. The good news is that your friends at Painesville Dental Group have a cosmetic dentistry solution that can change all that. With professional teeth whitening from Zoom, we can help you overcome embarrassing stains so you can be yourself again.
Professional Teeth Whitening Options
At our Painesville and Chardon dental offices, we offer fast and effective teeth whitening with Zoom! Whitening. With in-office teeth whitening from Zoom! it takes just one visit to dramatically brighten teeth using a specially formulated gel and targeted light. The entire process is safe and comfortable, not to mention easy. If you have a special event coming up and need a whiter smile in a hurry, in-office teeth whitening with Zoom! may be what you need.
But teeth whitening with Zoom! isn't the only option we have. For patients who are looking for a way to whiten their smile at home, or who would like to supplement their Zoom! whitened smile with at-home touch-ups, your doctor at Painesville Dental Group can also provide a take-home teeth whitening kit.
To find out more about teeth whitening, our whitening options, and what causes stains in the first place, visit our teeth whitening page. You can also call one of our offices to reserve a consultation appointment with us. We gladly serve patients from Painesville, Chardon, and Jefferson.