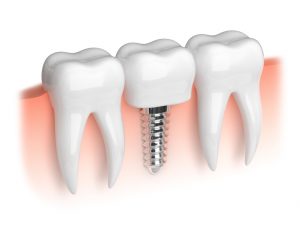 At Dental Group of Jefferson, we know the challenges you face when missing teeth, which is why we've now extended our services to include dental implants. We now offer dental implants in our Jefferson office to give you a complete smile. With dental implants in Jefferson, you'll permanently replace your missing teeth for a beautiful new smile while improving your oral health and quality of life. Implants are an excellent means to solve tooth loss once and for all using a safe and effective procedure. If you're suffering from tooth loss, we encourage you to find out if you're a candidate for dental implants today!

Dental Implants in Jefferson
Dental implants offer you a permanent way to solve missing teeth with prosthetics. As an implant dentist in Jefferson, we surgically insert bio-compatible titanium posts into your jawbone. We use titanium to act as the tooth root because the body naturally accepts the metal—creating a strong bond. Once your bone has fused to the implant, we will use an abutment to attach custom-made prosthetic crowns to replace your missing tooth.
As a leader for implant dentistry in Jefferson, we are able to solve all degrees of tooth loss. No matter if you're missing one tooth or all of your teeth, dental implants are your permanent solution for a new smile. Dental implants offer an average of a 98 percent success rate, however, that level of success depends on whether or not you're a candidate for implants. While most people are a candidate, we're here to help you determine if you're a candidate for the procedure.
Perfect Dental Implant Candidate
If you're missing one or more teeth, chances are you're a candidate. However, you must have enough bone dentistry to support the implant. Even if you have decreased bone density, that doesn't necessarily mean you can't get implants. Bone grafting can be used to increase your bone density, allowing you to become a suitable candidate.
In addition, you must not have gum disease. If gum disease is present, your implants will likely become infected and fail. Plus, you can't be a smoker. Smoking and tobacco use decreases the body's ability to heal and fight infections, placing you at a higher risk for implant failure. You must also have good metabolic health and can't be using medications that may interfere with bone growth.
Unfortunately, there are also some medical conditions that may not make you a candidate for implants, such as uncontrolled diabetes, those undergoing cancer treatments, and those with certain cardiovascular conditions. Those who have certain blood or bone dycarsia might not be suitable for implants. However, the only 100 percent way to tell if you're truly a candidate is to come into our Jefferson office for a consultation.
Implant Dentistry in Jefferson
If you're interested in dental implants for your tooth loss, we invite you to come into our office for a consultation. As a dentist for dental implants in Jefferson, we'll thoroughly evaluate your oral health and overall health to determine if implants are right for you. Call our Jefferson office today at (440) 577-4114.