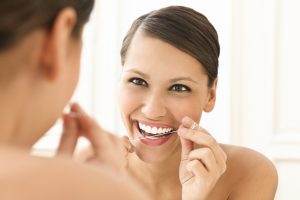 You may have read or heard about a recent report stating that there is insufficient evidence to support what dentists have been preaching for decades: floss your teeth. The report claims that the effectiveness of flossing has never been adequately researched and, therefore, the evidence is "weak and very unreliable." At Painesville Dental Group, we beg to differ. As your dentist in Painesville, we have seen the consequences of not flossing and stand by our recommendation to continue with daily flossing despite reports to the contrary.
Flossing and Your Smile
When you floss between your teeth, you remove food particles that are trapped after a meal. These aren't only visible debris—think of a slim piece of spinach stuck between your teeth—but also minute particles that you can't see. Trapped between your teeth, those tiny bits of food are a meal for the bacteria in your mouth, according to the dentists in Chardon.
Furthermore, flossing removes plaque, which is that sticky film that develops in our mouths all day every day. In fact, reliable research indicates that flossing does approximately 40 percent of the cleaning during oral hygiene care. Think of it this way—each tooth has five surfaces: lingual, facial, biting and the two sides. Eliminate flossing and you miss cleaning the sides, or 40 percent of the total surface area of a tooth. Wayne Aldredge, president of the American Academy of Periodontology likens not flossing to not painting two sides of your home; the two unpainted sides will certainly rot away more quickly. Flossing is really the only way to get between your teeth to remove the plaque and bacteria that can lead to tooth decay, irritated gums and periodontal disease.
Flossing Tips from the Dentist in Jefferson
Flossing is an inexpensive and low risk step in an oral hygiene routine that supports good oral health. However, there is a right and a wrong way to floss. Many people tend to move the floss in a sawing motion, which is far less effective that moving the floss up and down the sides of teeth. In fact, this may be one of the reasons why the evidence in support of flossing is weak. Done correctly, flossing is an important factor in helping to maintain your healthy and happy smile.
Call Our Office Today
In addition to flossing and regular brushing, biannual dental checkups are essential to maintaining good oral health. Make your appointment today at any of our three convenient locations: Painesville Dental Group, Chardon Smile Center, or Dental Group of Jefferson.