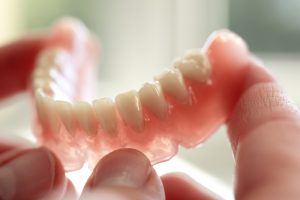 When you suffer from complete tooth loss, you need an effective solution to replace your missing teeth. Dentures are among the most popular option because they are affordable and convenient. While they have a bad reputation for looking and feeling fake, new advancements have improved their appearance and functions. Your dentist in Painesville will create custom-made prosthetic teeth to enhance your chewing and speaking abilities while also ensuring that you can smile confidently.

Regain a Complete Smile
Dentures have been used for well over 100 years to treat complete tooth loss. Using impressions of the mouth, a plate is made from an acrylic or polymer material. It will be made to match your natural gum color to be less noticeable while the impressions ensure a snug and comfortable fit.
Prosthetic teeth are then attached to the base, which are made from a ceramic material. They can be customized to match enamel color for a natural-looking smile. Now, your ability to chew and speak is improved when compared to dentures of the past due to a special heating process. This makes them harder to promote their durability.
Replace Your Missing Teeth
When replacing your teeth with dentures in Painesville, your dentist will perform a comprehensive consultation that will also involve the use of x-rays. In some cases, you may need additional procedures prior to having the prosthetics made, such as tooth extractions or the removal of excess gum tissue.
Impressions of the mouth and gums are then taken to create your dentures. You will require several appointments to make minor adjustments to ensure the right fit and comfort.
Protect Your New Smile
With the right care, your dentures will last an average of 5 years before needing to be replaced, but their longevity depends on how well you care for them. To ensure they last for as long as possible, remove and rinse them after eating. When handling them, do so carefully to prevent bending or dropping them.
Using nonabrasive products, brush your dentures at least once a day to remove any plaque, tartar, and food debris. Clean your mouth with a soft bristled toothbrush prior to placing them back in your mouth. You need to soak your dentures overnight to keep them moist so they maintain their shape. Do not let them dry out or expose them to heat, which will cause them to warp.
You will need to maintain your regular dental visits to have them cleaned professionally while also having adjustments made to ensure they continue to fit as time goes on.
Get a Complete Smile Today
If you are ready to replace your missing teeth, dentures are an excellent choice. You will be able to eat and speak with confidence with a complete smile.
About Painesville Dental Group
Since 1969, Painesville Dental Group has been committed to keeping smiles healthy. The family-friendly environment creates personalized solutions to promote the health of the teeth and gums. If you are suffering from tooth loss, contact our office today to discuss your replacement options.