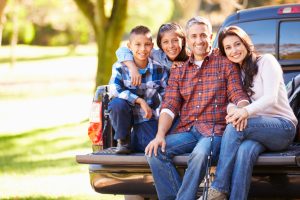 If you're anything like us, you love making your family smile. Unfortunately, the very thing that keeps those smiles healthy — regular visits to the dentist — may not make them feel much like grinning. If so, that's because you haven't found the best family dentist in Painesville! Our friends and neighbors actually look forward to visiting Painesville Dental Group, where patients of all ages find the comprehensive services they need.
Our team of experts has the vast experience necessary to provide excellent care for everyone. From the littlest in your family to great grandma and grandpa, we cover all smile needs with the utmost care and attention.
Let's Start Off With Prevention
We begin all treatment plans with a focus on preventive dentistry. That's because it's easier to stop problems in their tracks than it is to correct an existing issue. When we are able to remove plaque and tartar from the surface of your teeth, we'll be able to keep cavities and gum disease at bay.
The prevention of gum disease is perhaps especially important for overall health. Periodontitis, or advanced gum disease, has been linked to a number of conditions, including heart disease, high blood glucose levels, and other health problems. Your family dentist can diagnose and treat gum disease.
Patients of all ages should undergo a checkup and cleaning every six months. During this visit, we will remove all the biofilm from your teeth and around your gums, take X-rays, and perform a thorough exam to catch the tell-tale signs of issues lurking beneath the surface. If a problem is detected, we will put together a plan to get you back to good oral health ASAP.
Friendly Children's Dentistry
Kiddos need a special approach in dentistry. We know the dentist's office is a new environment for little ones, and they're just not as familiar with us — so we don't take it personally when young patients are a bit (or a lot) nervous. As your family dentist, we are careful to take a slow, friendly approach with children. We want to ensure they only take away positive associations from their time at the dentist.
Children also benefit from special preventive approaches, like dental sealants and topical fluoride treatments. Kids are the most vulnerable to cavities between ages 6 and 14, while their permanent tooth enamel is still developing. Dental sealants and fluoride treatments shield and strengthen the teeth from decay, respectively.
And Your Own Complex Restorative Needs
When you visit Painesville Dental Group, you can have your own dental needs met with the same care and attention as your child enjoys. Our team provides one-visit crowns with CEREC technology, and we will also take care of dental implant restorations and a number of other options in tooth replacement to help you enjoy the complete, confident smile everyone deserves.
We Want to Meet Your Family!
If you haven't found a wonderful dentist that's always on your side, it's time to get in touch with the family dentist Painesville loves. Contact Painesville Dental Group to schedule an appointment today!