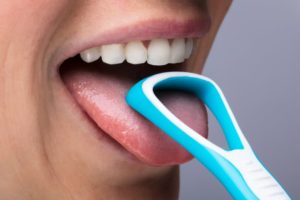 What does a great dental routine look like to you? For most of us, it includes regularly brushing our teeth, flossing under our gums, and maybe even using some mouthwash. However, these methods are all neglecting an important part of your mouth: your tongue! This large group of muscles in your mouth may be easy to overlook in your daily life, but your tongue is just as susceptible to plaque and bacteria as the rest of your mouth. Read on as your dentist explains why you should be cleaning your tongue and how you can incorporate it into your daily oral healthcare routine.
Why Should I Clean My Tongue?
We all know that it's important to keep plaque from building up on your teeth and gums. But did you realize that plaque accumulates on your tongue as well? It may look smooth, but your tongue is covered in tiny grooves formed by small bumps called papillae. These small spaces easily trap plaque, bacteria, food particles, and even dead skin cells, which are then held in place by a coating of mucus naturally produced by your mouth. When these elements begin to break down, they'll emit noxious gases that will cause your breath to smell horrible no matter how often you brush your teeth.
The Best Ways to Keep Your Tongue Clean
Thankfully, keeping your tongue healthy is easy. The two most common and effective methods are brushing and scraping.
Brushing can be done with the same toothbrush you use to clean your teeth. After brushing, rest the bristles of your moistened toothbrush on the back of your tongue. Working your way forward, softly massage your tongue to clear away all the trapped bacteria and plaque. Don't forget to cover the inside of your cheeks and the roof of your mouth as well for a thoroughly cleaned mouth.
Scraping involves using a small dental device that can be purchased almost anywhere toothbrushes are sold. To use it, gently place it on the back of your tongue and pull forward. It should glide easily and comfortably over the surface, removing the thin layer of mucus and whatever was held beneath it. Once you reach the front of your mouth, rinse the scrapper and start the process over again for each side of your tongue.
Remember, this should be an easy and comfortable process. If cleaning your tongue causes discomfort or gagging, you may be applying too much pressure. Your dentist can demonstrate the proper tongue cleaning techniques at your dental checkup so you can make the most out of your daily dental routine.
About the Author
At Painesville Dental Group, we're dedicated to meeting all your dental care needs, whether you need a tooth repaired or simply want to learn how to clean your tongue. Our team of four highly skilled dentists brings over 100 years of combined experience under one roof so you don't have to drive all over town to get the happy, healthy smile you deserve. We can be contacted at our website or at (440) 354-2183.