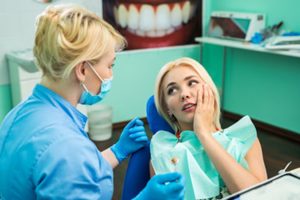 The world can come to a screeching halt when you experience a dental emergency; and they often happen when it's least convenient, too! These emergencies can also take many different forms and shapes, with some seeming much more serious than others. But how are you supposed to know which situations warrant immediate treatment? When it comes to something like a chipped tooth, should you call your emergency dentist as soon as possible, or wait and hope that it heals up on its own? Keep reading to learn more about chipped teeth and why they require quick treatment.
What Causes Chipped Teeth?
Even though your pearly whites are strong and durable, they aren't invincible. Weakened teeth, especially due to poor oral hygiene, are very susceptible to all sorts of problems including chipping and fracturing. There are several risk factors associated with chipped teeth, all of which can cause or escalate the issue:
Tooth decay & cavities.
Bruxism (grinding and clenching your teeth).
Eating disorders and excessive alcohol use.
Worn enamel due to old age.
Physical trauma to your teeth.
Why Do Chipped Teeth Need Treatment?
To put it simply, all instances of a chipped tooth require treatment. The human body is amazing and capable of self-healing in many different ways, but your teeth sadly aren't capable of healing that type of damage on their own. Even if you're experiencing minor discomfort, you should contact your emergency dentist promptly.
You might also experience severe pain, swelling, sensitivity, or a change in the tooth's appearance and functionality, and you could be at risk for serious oral health issues. Depending on the severity of the situation, your dentist will determine when you need to be treated and will provide instructions on how to handle discomfort in the meantime, such as using over-the-counter pain relievers.
How Are Chipped Teeth Treated?
Fortunately, there are many ways that chipped teeth can be treated. Some common treatment options include porcelain veneers, metal-free restorations, and dental crowns. For more severely chipped teeth, you might need to undergo root canal therapy before a crown is placed on the affected tooth. In extreme cases when the tooth cannot be treated, a tooth extraction can be done as a last resort. In any instance, your dentist will always provide you with aftercare guidelines to ensure a smooth recovery—but for the most part, chipped teeth are a relatively easy fix!
If you've suffered a chipped tooth, it's unfortunately not something that can heal on its own—but your emergency dentist can easily help! Don't prolong treatment and contact them promptly to get your smile the care it needs.
About the Practice
Painesville Dental Group is honored to serve patients and families in the Painesville, OH area under the leadership of four skilled specialists: Dr. Dennis Horvath, Dr. Jerry Patriarca, Dr. Nicholas Slezak, and Dr. Stephanie Pichler. They combine decades of collective experience to provide patients with an elite level of dental care. The practice is pleased to offer several available services including emergency dentistry. If you or a loved one is suffering from a chipped tooth, don't hesitate to schedule an appointment by giving them a call: (440) 354-2183.