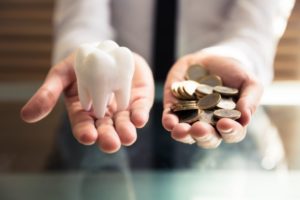 There's a common misconception that skipping your biannual dental checkups can save time and money. Many people think that they don't need to visit their dentist regularly if their teeth look and feel fine. Unfortunately, forgoing these key preventive visits can be a pricey decision that costs you much more time, money, and discomfort later. Here are just a few of the most important ways regularly visiting your Pineville dentist can improve your life right away as well as in the long run!
Keep Your Smile Bright Without Store-Bought Whiteners
Brushing and flossing your teeth every day plays a key role in keeping your teeth shiny, but even the best daily dental routines can't clear away all the plaque in your mouth. Over time, plaque hardens into a tough, yellowish substance known as tartar. This material is brimming with bacteria and discolors your smile. Store-bought whiteners may be able to lighten its hue a little, but tartar can only be fully removed by a dental professional. Visiting your dentist for cleanings twice a year will help you save money on over-the-counter whitening products and keep your smile dazzling!
Most Oral Health Issues Are Hidden Until It's Too Late
Most oral health issues can easily develop without you seeing or feeling them. You may not recognize problems like tooth decay, gum disease, or broken enamel until they've progressed enough to cause noticeable damage or discomfort. However, these issues can typically be treated quickly, easily, and before impeding your quality of life when detected early. Regular checkups allow your dentist to spot the earliest warning signs and correct them right away. In the end, early detection can undoubtedly save you a substantial amount of time, money, and discomfort.
Some Dental Emergencies Can Be Avoided
Unfortunately, not every chipped, cracked, or knocked-out tooth can be prevented. However, there are some dental emergencies that can be avoided with routine preventive care. Intense toothaches, dental abscesses, and dangerous bacterial infections in the gums can typically be avoided with the help of routine dental checkups. Your dentist may even be able to identify signs of weakened enamel or loosened teeth before you experience a broken or knocked-out tooth! Treating these problems when they're smaller and more manageable prevents painful emergencies and the expenses that come with them.
Dental Checkups Are Good for Your Overall Health
Your dentist can tell a lot about the health of the rest of your body just by looking at your mouth. In fact, experts suggest that over 90% of systemic health concerns present symptoms in the mouth. At each checkup, your Painesville dentist is carefully looking for indications of conditions like osteoporosis, sleep apnea, diabetes, kidney disease, cancer, and many more. Just like oral health problems, the earlier these issues are discovered, the more likely successful treatment is.
The little time or money you may save when skipping your dental checkups isn't worth how much it might cost you later. Seeing your "dentist near me" every six months is a worthwhile investment in the long-term wellbeing of your smile and health!
About the Practice
At Painesville Dental Group, we are dedicated to making optimal oral health an attainable goal for every smile in Painesville, Jefferson, Chardon, Hilltop, and the surrounding Ohio communities. With over 100 years of combined experience and state-of-the-art equipment, our talented dentists have what it takes to help you overcome nearly any oral health issue. We're proud to offer several locations, Saturday appointments, and a friendly office environment to make your dental care as pleasant and easy as possible. We take a wide variety of dental insurances and provide financing options through CareCredit as well. To learn more, we can be contacted via our website or at (440) 354-2183.