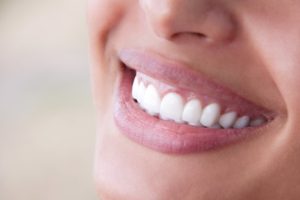 Your smile plays a key role in your quality of life and social perception. Studies indicate that a healthy, beautiful smile can make a person seem younger, more attractive, and even more trustworthy. Researchers have also discovered that the act of showing off your pearly whites can boost your self-confidence, happiness, and your chances for career advancement. As such an important feature of your life, it's important that you take care of your teeth and gums correctly! Your Painesville dentist shares ten healthy habits you can start today to help keep your smile beautiful and intact for a lifetime.
1.) Don't Forget to Brush
For some people, regular toothbrushing is a habit that's easy to put off or forget. However, consistently brushing your teeth for two minutes twice a day is your first line of defense against most oral health issues!
2.) Clean Your Teeth Correctly
Using the wrong techniques to clean your teeth can do them much more harm than good. When brushing, use small, circular motions to gently massage your teeth and gums for the most effective cleaning.
3.) Use the Right Tools
To protect your teeth from becoming weakened or damaged, you should always use soft-bristled toothbrushes and fluoridated toothpastes with the ADA Seal of Approval.
4.) Remember to Clean Your Tongue
Just like your teeth and gums, your tongue accumulates plaque, bacteria, and food debris throughout the day. Take some time every day to gently brush away the buildup and keep your mouth fresh.
5.) Flossing Is Just as Important as Brushing
Brushing alone can't remove all the dangerous particles in your mouth. Flossing your teeth every day is the only way to clean out the small spaces just beneath your gumline and between your pearly whites.
6.) Don't Give Up Because of Flossing Difficulties
Many people find flossing to be an awkward and challenging task. Instead of giving up, try using different tools like interdental brushes or pre-threaded flossers to keep your smile clean.
7.) Drink More Water
Drinking water throughout the day cleans your mouth out and washes away lingering sugars in your mouth. Fluoridated tap water can even strengthen your teeth with important minerals!
8.) Eat Crunchy Fruits & Vegetables
Not only are high-fiber fruits and vegetables low in sugar content and high in vitamins and nutrients, but they also gently scrub away plaque as you chew them.
9.) Cut Back on Acidic Drinks
Acidic beverages like soda, sports drinks, and fruit juice are able to quickly burn through your enamel. To protect your teeth, dilute these drinks with water, drink them through a straw, or simply avoid them altogether.
10.) See Your Dentist Twice a Year
Even if your teeth look and feel fine, seeing your dentist twice a year is important. They're able to spot and stop issues like tooth decay, gum disease, and oral infections as early as possible. What's more, they'll do everything they can to help prevent these problems from developing in the first place!
A few simple yet effective habits can go a long way in protecting your oral health. Use these 10 tips from your "dentist near me" to keep your smile looking and feeling its best for the rest of your life!
About the Practice
The talented team of Painesville Dental Group has helped generations of smiles in Painesville, OH and the surrounding communities to stay happy and healthy for a lifetime. To make great oral health care as easy and pleasant as possible, they offer family-friendly hours, a welcoming and state-of-the-art office, and dental services for smiles of all ages. They go above and beyond to help you achieve your ideal smile, so feel free to contact them with any further questions via their website or at (440) 354-2183.