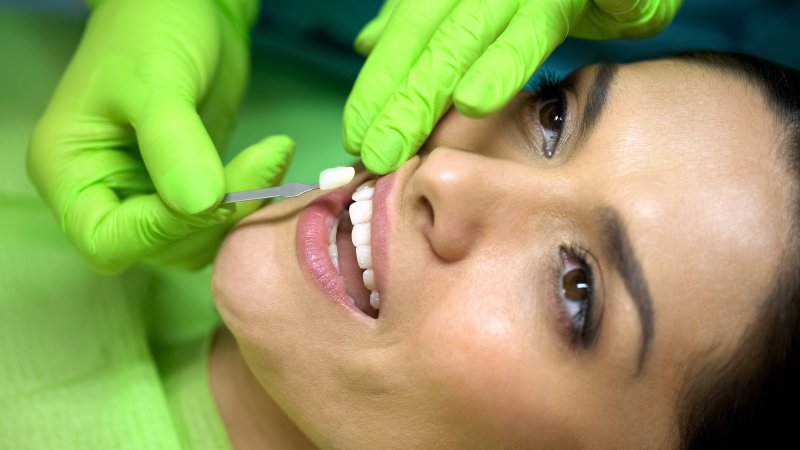 So, you've made the decision to invest in porcelain veneers! There are so many advantages to them which is why they are so popular, especially among celebrities. These custom-made shells can cover all sorts of imperfections including discoloration, minor chips, gaps, and undersized teeth. They will certainly improve your confidence and enhance your smile in a way that will make you eager to show them off to the world. Since they are such a big investment, you want them to last as long as possible before you need to have them touched up. Here are some tips from your dentist about how to increase the lifespan of veneers.
Practice Good Oral Hygiene
Just like taking care of your teeth now, brushing twice and flossing once daily is key for maintaining a healthy smile, whether or not you have veneers. However, it is important to learn how to brush your teeth properly after having your veneers placed. Many people brush theirs too aggressively which can cause damage. Ask your dentist to give you a tutorial on how to properly brush and floss with your new, enhanced smile.
Switch Toothpastes
You may want to consider trying a different type of toothpaste after you have your veneers placed. Porcelain can be damaged by substances that are too abrasive. This includes grittier toothpaste that is intended to get rid of surface stains. Choosing a whitening toothpaste may be a good option because it can prevent your natural teeth from becoming discolored over time and not matching your veneers.
Don't Smoke
Tobacco products can do a lot of harm to your smile. On top of increasing your risk of gum disease and oral cancer, they are a common reason for discoloration. If you want to keep your veneers and surrounding teeth as bright and white as possible, this is definitely a habit you should drop. Ask your doctor, friends, and family about the best ways you can quit.
Watch What You Eat
Chewing on things like ice and sticky, hard candy can cause damage to both your veneers and natural teeth. Other food items like coffee, red wine, and berries can stain your natural teeth. This may cause a noticeable difference between the surface color of your veneers and teeth over time.
Visit Your Dentist
Even though veneers aren't as vulnerable to staining or decay as your natural teeth, it is still important to see your dentist in order to have your smile cleaned an examined. They can help you preserve your smile for as long as possible.
Investing in porcelain veneers can do a lot to boost your confidence. With proper care, they can last fifteen years before they need to be replaced. Keep some of these tips in mind as you're starting your journey with your enhanced smile.
About the Author
At Painesville Dental Group, Dr. Dennis J. Horvath and his team provide several different cosmetic treatments including porcelain veneers. Dr. Horvath completed his dental degree from Ohio State University and has been in practice for 38 years. He is a member of the American Dental Association, Ohio Dental Association, and Northeastern Ohio Dental Society. For more information on veneers or to schedule an appointment, visit his website or call (440) 354-2183.