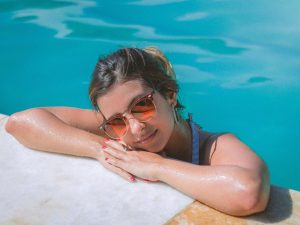 Summer is here! If you're ready to spend your days soaking up the sun and cooling off in the pool, the last thing on your mind is your teeth. While you may not think twice before diving into the pool, is swimming bad for your teeth? Pools and hot tubs contain chlorine to kill harmful water pathogens. Although it is safe for swimming, it can damage your enamel. Here's what you need to know to keep your smile safe while taking a dip.
Chlorine and Your Smile
You know spending time in the pool can make your skin dry and your hair may even turn an off-color from the chlorine, but did you know your tooth enamel can also be damaged? Swimming pools require a proper pH balance to kill bacteria. If the pH level is too low, you might smell the chemical in the water. It might even make your nose burn or your eyes sting. Although you might attribute it to too much chlorine, it is actually caused by low pH, which has made the water acidic. As a result, it can be corrosive to your teeth and irritate your skin. A properly balanced pool should have a pH level between 7.2 and 7.6.
While you likely don't swim with your mouth open, the Academy of General Dentistry has found athlete swimmers who spend more than 6 hours a week in chemically-treated pools have weakened teeth. Besides eroding the enamel, a high pH level can cause salivary proteins to break down and create organic deposits on the teeth, known as "swimmer's calculus." The hard brown deposits tend to appear on the front teeth.
Enjoy Swimming and Protect Your Smile
Whether you're an avid swimmer or only jump in the pool occasionally, you don't need to stay out of the water to keep your smile safe. Instead, check your home pool's pH level at least once a week using a store-bought testing kit. If you're at a public or hotel pool, take a minute to look around at the liner and ladder for any signs of corrosion. This can indicate the pH level is not balanced.
Despite your precautions, damage can still occur. It's best to contact your dentist if you notice any signs of chlorine complications, such as:
Tooth discoloration
Edges of teeth look transparent
Tooth sensitivity
If you're concerned about harming your smile during your swim daily, ask your dentist about adding a fluoride treatment to your preventive care plan. The varnish will coat your enamel to strengthen it. You'll avoid the risks of chlorinated water while also making your teeth cavity-resistant.
About Dr. Jerry V. Patriarca
Dr. Patriarca has over 30 years of experience creating healthy, beautiful smiles. Besides earning his dental degree at Case Western Reserve Dental School, he has complete advanced training in CEREC and cosmetics at the Las Vegas Institute. If it's time for your next cleaning and checkup, contact our office today to schedule an appointment.