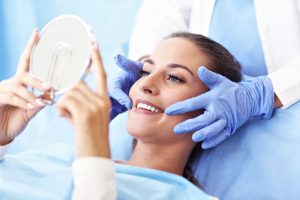 Everyone wants to feel confident about the way they look, but most of us weren't born with a perfect set of pearly whites. That's where cosmetic dentistry comes in. It can help stains, chips, or gaps in your smile become things of the past. One thing that keeps many people from pursuing cosmetic dentistry is their worry that the procedures will hurt. Continue reading to find out whether you need to worry about pain when getting cosmetic dental work.
Does Cosmetic Dentistry Hurt?
People often hesitate to visit the dentist, even for cosmetic work, because they're scared of pain. However, rest assured that you have nothing to fear. Your cosmetic dentist prioritizes your comfort above all else. They'll do everything they can to ensure your appointment as is comfortable and stress-free as possible.
Many cosmetic dental procedures are noninvasive, and for the others, anesthetics can be used to minimize discomfort. If you're worried about pain, just let your dentist know – they'll do their utmost to give you a comfortable experience!
Which Cosmetic Dental Treatments Are Painless?
Some of the most popular cosmetic dental services involve little or no discomfort, including:
Teeth whitening – Whether you have your dentist dramatically brighten your smile with in-office teeth whitening or you invest in a professional-grade take-home whitening kit, you can typically expect a pain-free treatment. Some patients experience sensitivity afterward, but this should be mild and short-lived.
Direct bonding – Bonding is a quick and affordable way to fix small gaps, stains, and other imperfections. More often than not, your dentist can sculpt this tooth-colored resin onto your tooth without the need for a local anesthetic.
Veneers – Some tooth preparation is required to place these porcelain sheaths over your teeth, but your mouth should be numbed beforehand.
Are Any Cosmetic Dental Treatments Painful?
More invasive procedures, such as replacing a missing tooth with a dental implant, involve a recovery period with some discomfort. While you shouldn't feel pain during the procedure itself due to anesthesia, your mouth will be sore for the next few days. For treatments like these, your dentist will give you plenty of tips for reducing pain, such as getting plenty of rest and taking prescribed or over-the-counter pain medication as directed.
If you've been wanting to make your dream smile a reality, don't let a fear of pain stop you. Thanks to modern dental technology, you can expect a relatively comfortable experience with cosmetic dentistry!
About the Practice
At Painesville Dental Group, we have a top-notch team of dentists who can provide a variety of cosmetic dental treatments at each of our four locations. Whether you want to whiten your smile with professional teeth whitening, straighten your grin with Invisalign clear aligners, or even look younger with Botox injections, we have everything you need to enjoy a pain-free experience as you improve your appearance. To find out which cosmetic dental service is right for you, visit us online.