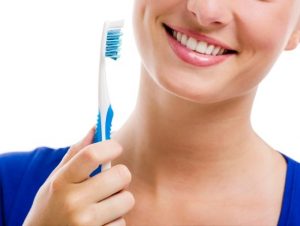 When you reach for your toothbrush in the morning, you assume it is clean. You don't want to think about germs and bacteria hiding in the bristles. Although the thought might make you cringe, your toothbrush can host several harmful pathogens. You don't need to buy a new toothbrush every day to avoid exposing your teeth and gums to germs. Here are 4 tips to clean your toothbrush to ensure your mouth is much cleaner than it was before brushing.
Do I Really Need to Clean My Toothbrush?
If you're like many people, you likely rinse your toothbrush with running water after brushing to remove plaque, foods particles, and leftover toothpaste. Afterward, you likely store your toothbrush in the bathroom. Bacteria can linger in the air, especially after flushing the toilet. The bacteria can transfer to your toothbrush if it's laying out in the open. Unfortunately, you can't spray your toothbrush with Lysol to disinfect it, but there are several ways you can keep it clean.
How to Clean Your Toothbrush
The American Dental Association has found no evidence of negative oral health effects from typical bacteria found on a toothbrush; however, microorganisms like yeast and fungi can thrive. While you want a healthy number of normal bacteria in your mouth, you want to limit the growth of harmful species by:
1. Rinsing with Hot Water
You can sanitize your toothbrush by rinsing it with hot water before and after using it. Most bacteria that have collected on the bristles between brushing will be washed away. Ideally, you want the water to be hot enough to produce steam.
2. Soaking It in Mouthwash
Soaking your toothbrush for 2 minutes in an antibacterial mouthwash can give you added peace of mind. While it will kill bacteria and microorganisms, the harsh ingredients may make your bristles break or wear down quicker, so you'll need to replace your toothbrush more often.
3. Reaching for Denture Cleanser
A denture cleanser can also disinfect your toothbrush. The cleaner contains antimicrobial ingredients that target oral bacteria and plaque. You can dissolve a cleaning tablet in a cup of water and soak your toothbrush for about 90 seconds for a deep clean.
4. Storing Your Toothbrush in Fresh Air
Although you don't want germs from the toilet landing on your toothbrush, the American Dental Association recommends storing it in the open. If your toothbrush is covered, it promotes the growth of mold and bacteria.
Keep Your Smile Clean and Healthy
Your dentist recommends using "when in doubt, throw it out" as a general rule of thumb when it comes to the cleanliness of your toothbrush. Even with the proper cleaning, don't forget to change your toothbrush every 3 months or when the bristles are worn, whichever comes first.
About Dr. Dennis J. Horvath
Dr. Horvath has over 38 years of experience in dentistry. Besides earning his dental degree, he is a member of various professional organizations, including the American Dental Association, Ohio Dental Association, and the Northeastern Ohio Dental Society. If you have any questions about your home oral hygiene routine, contact our office today.