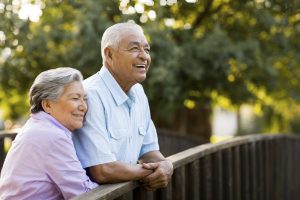 Are you taking excellent care of your denture? These replacement teeth, whether full or partial dentures, require some special maintenance steps. Below are five tips from the team at Chardon Smile Center to ensure your dentures stay beautiful, whole, and functional for years to come.
#1: Rinse dentures after eating
Dentures that fit the way they should restore your ability to eat all of your favorite foods once again. Even fresh apples and corn on the cob are possible with a well-fitting denture. To keep the replacement teeth clean and functioning properly, rinse them thoroughly after every meal and snack. Doing so doesn't take much time, and goes a long way to preventing the buildup of plaque and bacteria.
#2: Protect surfaces
While you are rinsing or brushing your dentures, it's easy for them to slip from your hands. And a broken denture probably means a lot of stress for you. How to avoid denture damage? Place a towel over the bathroom counter, or fill the sink with water while handling your denture. It's a small preventive step that can save you lots of time, money, and stress in the long run. And if your dentures have metal brackets or clasps, handle with special care to avoid damaging the hardware.
#3: Skip the toothpaste
This one may be a surprise, but when it comes to toothpaste, what's good for your natural teeth isn't good for the denture. Toothpaste is often too abrasive for full and partial dentures. Special formulas like whitening or anti-cavity toothpaste cause additional damage. Instead, brush your denture once a day using a soft-bristled denture brush and either a special denture cleanser or plain water. And don't think soaking is a sufficient substitute for cleaning — thorough brushing removes plaque and bacteria in a way that mere soaking does not.
#4: Check the temperature
Hot or even very warm water will cause your denture to warp and lose its fit. While you are cleaning and soaking your denture, make sure you only use cool or room-temperature water. If you do accidentally expose your denture to heat, schedule an appointment with your dentist immediately to make any necessary adjustments.
#5: Watch out for signs of an ill fit
Dentures that don't fit the way they should affect good nutrition by making eating more difficult. An ill-fitting prosthetic also causes sores in the cheeks, gums, and tongue that have been linked to oral cancer. As soon as you start to notice a change in the way your denture fits, schedule an appointment with your dentist at Chardon Smile Center. Remember that non-implant supported dentures need to be replaced every five to seven years.
Do you have additional questions about your denture care? Or perhaps you'd like to schedule an appointment to get started on tooth replacement — we'd love to help. Contact Chardon Smile Center to book a visit today! Our team loves helping patients enjoy the benefits of a full, confident smile once again.