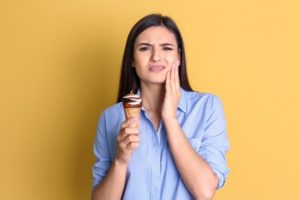 Have you been skipping your warm cup of coffee and passing on ice cream date nights from fear of triggering your sensitive teeth? You are not alone. In fact, The Journal of the American Dental Association found that 1 in every 8 people has sensitive teeth.
Although sensitive teeth aren't inherently dangerous, they could be a symptom of a larger problem that is. Here are some things to consider when deciding if you should schedule a visit with an emergency dentist or if it can be treated at home.
4 Common Causes Of Sensitive Teeth
People who suffer from sensitive teeth are no stranger to being hyperaware of the temperature of their coffee, the crunchiness of their food, and of how firm the bristles of their toothbrush are. After all, each of these activities can result in dull, aching pain for the rest of the day and a sleepless night ahead. But what causes teeth to become sensitive? Here are 4 possible reasons:
Tooth decay – When your teeth decay, the protective layer of enamel is removed. In some cases, tooth decay can affect the cementum, which protects the root under the gum line. When the roots are exposed to extreme temperatures, they can cause a sense of discomfort in a certain tooth or area of your mouth.
Fractured teeth – When a tooth is fractured or chipped, it exposes the nerves inside of the tooth. This can result in pain while chewing or sensitivity to foods and drinks that are hot or cold.
Worn fillings – Once the fillings in your teeth are worn down, the layer underneath the enamel, called the dentin, can become exposed. The dentin is not designed to function like the strong layer of enamel, so it can cause sensitivity when exposed to intense temperatures.
Gum disease – Gum disease causes the gum tissue to become inflamed, sore, and sensitive. Side effects of gum disease, like cracked or broken teeth, can also result in tooth sensitivity from direct impact to the nerves.
When Does Tooth Sensitivity Become A Dental Emergency?
Although it is normal to experience some sensitivity every now and again, any lingering or intense discomfort or pain surrounding your teeth should warrant an emergency visit to your dentist, especially if accompanied by excessive bleeding, tooth loss, dental trauma, or an abscess.
If you are one of the many people who experience tooth sensitivity, seeking treatment before it turns into a larger problem is of the utmost importance. Plus, treating the issue will get you back to enjoying coffee-filled mornings and late-night ice cream runs!
About Painesville Dental Group
With four convenient locations, state-of-the-art dental care, and a passion for helping adults and children alike with their dental needs, Painesville Dental Group is a practice that goes out of their way to make sure you are taken care of by providing same-day appointments and emergency dental care. If you or a loved one has experienced a dental emergency, visit their website or give them a call at 440-354-2183.