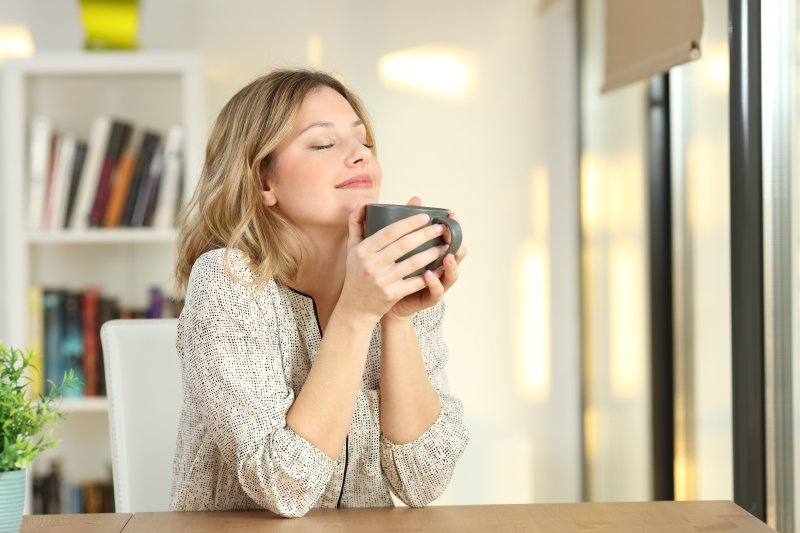 Fall is finally here! It's getting cooler outside and the leave are beginning to change colors. Not only does this mean sweater weather, but it also means that pumpkin spice lattes, among other hot beverages, are the latest trend again. However, you may not think about how they affect your smile. Continue reading to learn more from your dentist about how hot drinks affect the health and appearance of your smile.
What Do Hot Drinks Do to Your Smile?
Hot drinks can affect your smile in many different ways. Here are a couple of them:
Staining: Hot drinks like coffee and tea are well-known for staining teeth, especially if you drink them for long periods of time. Coffee and many teas contain an ingredient known as "tannins," which is known for its bitter flavor and dark pigments. The stains created by this ingredient can be particularly resistant, even if you brush your teeth regularly. Green tea and herbal tea don't generally cause staining because they are less likely to be rich in tannins.
Tooth Decay: In itself, coffee doesn't cause too much harm when it comes to gum disease or tooth decay. However, it is slightly acidic which can soften the protective enamel. When you add sugar to your coffee or tea, this is when tooth decay can become a problem. Hot chocolate is also damaging, mainly because it is loaded with sugar. Drinking sweetened coffee drinks containing flavored syrups is like drinking liquid candy.
How Can You Prevent the Effects of Hot Drinks?
Here are a few tips that can help you minimize damage to your teeth without forcing you to completely cut out your hot autumn treat:
Use a Straw: Unless you are just drinking plain water, you should always use a straw when you can. This allows you to drink liquids without making as much contact to your teeth.
Rinse with Water: After you finish a hot coffee or tea, it is a good idea to drink water. This helps to wash away leftover particles that are still lingering in your mouth.
Don't Sip All Day: It is better to drink your beverage quickly than sip on it all afternoon. Your teeth are particularly vulnerable to damage right after you have a sweetened beverage, so it is best to limit this time as much as possible.
Don't Brush Immediately: Brushing your teeth right after finishing a sweetened or acidic hot drink isn't a good idea. This is because your teeth are more susceptible to damage because the enamel has been softened. Wait 45 minutes to an hour before brushing your teeth after you finish your drink.
You don't need to cut out your favorite beverages completely. By being aware of how they affect your teeth and taking precautions, you can maintain a healthy smile.
About the Author
Dr. Dennis J. Horwath is a well experienced dentist who has been practicing for 38 years. He earned his dental doctorate from Ohio State University and is a proud member of the American Dental Association, Ohio Dental Association, and the Northeastern Ohio Dental Society. For more information or to schedule an appointment at Dr. Horwath's office in Painesville, visit his website or call (440) 354-2183.