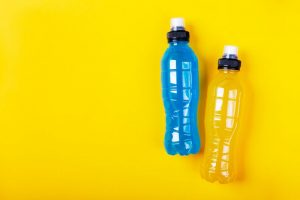 If you've ever looked at the nutrition facts on a can of soda, then you know it's not the healthiest option when it comes to beverage choices. Maybe you have made a goal to start drinking healthier drinks, and perhaps flavored water has been your beverage of choice. While the word "water" is included in the name, many flavored waters are hiding a multitude of other ingredients that can have negative effects on your oral health. Keep reading to find out why your local dentist recommends you be mindful of how much of it you're drinking.
The Hidden Effects of Flavored Water on Oral Health
Flavored water is becoming more popular, and with all of the brands out there releasing their own versions, there are plenty of delicious options to choose from. However, it's important to be careful about how much of it you enjoy due to these specific ingredients that can wreak havoc on your teeth and body:
High Fructose Corn Syrup
Scientists proved long ago that high fructose corn syrup is not great for humans. Its high sugar content is a prime cavity-causer. When consumed in moderation, the body metabolizes natural sugar to use it for energy. High fructose corn syrup, however, can inhibit the body's ability to feel full and actually increase your appetite. In addition to that, it has also been linked to other health issues such as obesity, liver disease, and diabetes.
Acid
Many flavored waters boast of containing Vitamin C, a great and natural immune boosting element. However, it is extremely high in acid content, and most flavored waters will take you far above the recommended daily intake of it. If consumed excessively on a regular basis, it can lead to erosion of the enamel on your teeth, making them more prone to cavities and breakage.
Artificial Food Coloring
Eons ago, humans actually used color to identify whether or not something was edible, and there's a good chance that a neon pink or highlighter-yellow liquid would not have made it on that list. According to doctors, the most common artificial food colorings in flavored waters are Red No. 3, Blue No. 1, and Yellow No. 40. This may not mean much to you if you're not a scientist, but what you need to know is that they contain trace amounts of substances that can harm your teeth and body, such as mercury, lead, and arsenic. While they are minimal enough not to cause immediate damage, if consumed in excess for a long period of time, they could contribute to health issues down the road.
Before you grab another flavored water off of the shelf at the local store, take a moment to check the ingredients and consider a healthier option.
About the Practice
The team of doctors at Painesville Dental Group is passionate about equipping each of their patients with the tools and wisdom they need to maintain oral health. They understand how crucial it is to be mindful of what you eat and drink so that you can care for your teeth in the most effective way possible. Their combined years of training and experience make them an excellent choice for your next dental checkup. Make sure your teeth are in the best shape and Schedule an appointment online or call (440) 354-2183.