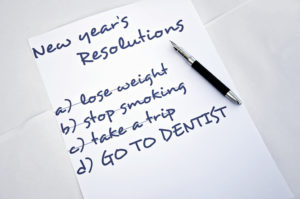 According to a study from the Delta Dental Plans Association, 42% of Americans don't see a dentist as often as they would like to. Even though a whopping 85% believe that good oral health is directly connected to good overall health, many people wait until something goes wrong before they visit their dentist. Now that it's January, it's the perfect time to begin bettering yourself with new habits, so why not start with a regular dental checkup? Find out why getting into the habit of a routine dental checkup should be one of your New Year's resolutions for 2020.
Smile Confidently with Dental Cleanings
Have you ever touched your teeth with your tongue and noticed that they felt fuzzy or unsmooth? It can be an unsettling feeling that leaves you self-conscious and embarrassed by your smile. What you're feeling is a buildup of plaque, a sticky, natural biofilm that coats your mouth throughout the day. If it's allowed to accumulate on your teeth or gums, it can harden into a material called tartar. This tough, yellowish substance can discolor your smile and irritate your gums.
A dental cleaning every six months can restore your confidence and keep those pearly whites smooth and shiny. Not only will all the plaque, tartar, and bacteria be cleaned away, but your dentist may also apply a sealant that can protect your teeth for several months. After a quick polish to remove any surface stains, you'll have a gleaming smile that looks and feels great!
Prevent Issues Before They Start with Regular Checkups
Even if your teeth look fine and don't cause you any discomfort, you should still get a dental examination every six months. Your dentist can identify issues you may not see or feel yet by looking for:
Worn down enamel, which could indicate unconscious bad habits that will weaken or fracture your teeth, like nightly teeth grinding, chewing on hard objects, or over-aggressive brushing.
Soft spots or thin cracks in your enamel, which will most likely develop into cavities or fractures respectively. Eventually, these may cause discomfort or infection, and need to be treated with fillings, crowns, or root canals.
Gums that are red or inflamed are the easily overlooked first symptoms of gum disease. If left untreated, it may advance into periodontitis, the leading cause of tooth loss in the US.
Evidence of underlying health conditions like diabetes, leukemia, or heart disease, which sometimes present their earliest symptoms inside the mouth.
Thankfully, catching these issues as early as possible can help you and your dentist minimize any discomfort or damage they could cause in the future. Dental experts recommend getting a dental checkup every six months to protect your happy, healthy smile for years to come.
About the Practice
At Painesville Dental Group, we strongly believe in preventing dental issues before they even start. That's why we encourage our patients to keep their smiles beautiful, clean, and healthy in the long run with a regular dental checkup every six months. One of our four highly-skilled dentists would be more than happy to help you maintain your great oral health and achieve the smile you've always wanted. To learn more, feel free to contact our Painesville office at our website or (440) 354-2183.