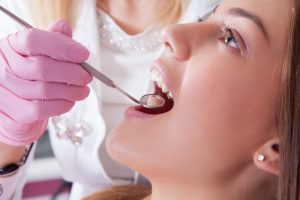 At Chardon Smile Center, our goal is to help you achieve and maintain optimum oral health for lifetime. We take a conservative approach when it comes to diagnosing treatment, and we believe prevention is the key to helping you avoid costly and invasive dental procedures. Dr. Christopher Phillips and Dr. Brian Titus, your premiere dentists in Chardon, discuss why it's important to visit our office every 6 months.
The Importance of Routine Dental Visits
Your six-month cleaning and checkup are truly your best defense against dental issues such as periodontal (gum) disease, oral cancer, and tooth decay because we screen for these conditions during every examination. All of these problems are best treated early on to ensure you receive the least invasive procedures. Your routine dental visits are an integral part of maintaining optimum oral health.
Our hygienists will also clean and remove the excess plaque buildup from your teeth that causes gum disease and cavities. Because we realize that excellent oral health begins at home, they'll also take the time to educate you about proper brushing and flossing techniques so you can make the most of your home care.
Periodontal Health Affects Overall Well Being
Gum disease is a prevalent problem in America today because more than half of American adults have it in some form. Because of recent studies, we understand that periodontal health directly affects overall health because the bacteria that causes gum disease can also contribute to other health issues such as diabetes and cardiovascular disease and vice versa.
6 month appointments are also important for your gum health because managing periodontal disease in its earliest stage (gingivitis) is easier than treating periodontitis. This is because we can typically treat it with a thorough professional cleaning and improvements to your home care. As it progresses into a more advanced stage (periodontitis), it requires a deeper cleaning that reaches below the gum line to remove harmful plaque and tartar buildup. Periodontitis may also require antibiotic therapy or even surgery to effectively manage it.
Contact Chardon Smile Center to Learn More
At Chardon Smile Center, we provide high quality dentistry to Ohio patients in a warm and friendly environment. With three convenient locations in Chardon, Jefferson, and Painesville to serve you, you can rest assured that your needs will be met with attention to detail and personalized care.
Contact our office today to schedule your next dental appointment and protect your oral health.