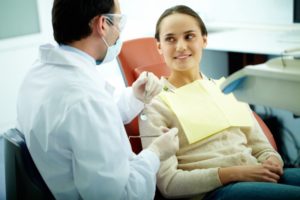 This year, 53,000 people in the United States will be affected by oral cancer, killing about 10,000. When the symptoms are caught early, the disease is easier to treat. Your dentist may be the one person who stands between you and the life-altering consequences of advanced stages of oral cancer. You may not have noticed, but at each of your semi-annual checkups and cleanings, your dentist performs an oral cancer screening. Read on to learn about what serious illnesses you can prevent by simply attending your routine dental visits.
What are the Symptoms and Signs of Oral Cancer?
Oral cancer is a specific type of cancer that develops in your head and neck area, excluding the brain. This includes your lips, gums, tongue, cheeks, and inside your mouth. Some common symptoms of this disease include:
Loose teeth.
Difficulty swallowing.
Oral sores that don't heal within two weeks.
Lumps or abnormalities in your oral tissue.
Ear pain.
White and red patches or sores.
You can look for these symptoms at home between your semi-annual visits. If you've noticed any of these symptoms or signs, schedule an appointment with your dentist to investigate.
How Can Your Dentist Protect You from Oral Cancer?
Your dentist has most likely performed an oral cancer screening on you during one of your visits. Their goal is to detect symptoms and signs of the disease at an early stage while it's still easily treatable. During your screening, your dentist will inspect the inside of your mouth for any red or white sores and patches. With gloved hands, they'll feel the inside of your cheeks and your oral tissues to check for any lumps or unnatural formations.
If your dentist spots any problem areas or has concerns, they may request additional testing. They could ask for a follow-up visit in order to see if the symptoms are still present after a couple of weeks. They may also refer you for a biopsy. This is where a medical professional will take a sample of your cells to test whether cancerous ones are present.
How Can You Reduce Your Chances of Developing Oral Cancer?
Certain factors have been linked to causing oral cancer. While there's no proven way to prevent the disease, you can reduce your risk by:
Stopping your use of tobacco products. Whether you chew or smoke tobacco, you're exposing your oral tissues to dangerous cancer-causing chemicals.
Watching your alcohol intake. Excessive alcohol consumption can irritate the cells in your mouth and alter your oral microbiome.
Getting the human papillomavirus (HPV) vaccination. HPV has been linked to causing oral cancer, so getting the vaccination can reduce your risk of developing the disease.
Visiting your dentist routinely. Going to your dentist can prevent small signs or symptoms from progressing and becoming difficult to treat.
Seeing your dentist for your semi-annual checkups and cleanings aren't just to keep your smile looking good. Many serious diseases exhibit oral symptoms, so your dentist could be the one person standing in the way of these illnesses wreaking havoc on your life. Looking after your oral health benefits your overall health, so don't wait to take care of your mouth before it's too late!
About the Practice
At Painesville Dental Group, we don't offer one or two different dentists with expertise, we have 5!  Each of our dentists offers a wide range of experience and training, allowing us to offer truly comprehensive care. You'll be under the care of professionals that have attended some of the finest dental institutions, so you know you'll be getting care you can trust. For any questions or to schedule an oral cancer screening, visit our website or contact 440-354-2183.