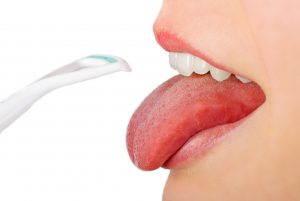 In your quest for a clean and healthy oral cavity, you are sure to brush and floss your teeth every day, but is there more that you could be doing? Your local dentist says there's a part that you may be forgetting about – the tongue. As you continue reading, he'll explain why cleaning your tongue is so important and will provide tips on how to do it the right way to prevent bacteria growth.
Why is It Important to Clean Your Tongue?
Your tongue is an integral part of all the functions in your mouth. It also comes in contact with any food or beverage you drink and is necessary to be able to speak correctly. Therefore, it's important to not overlook its maintenance.
If not care for properly, your tongue can play host to a variety of bacteria that get trapped between the papillae, the little bumps that line it. When this happens, you may notice a white coating and even bad breath. What's more concerning is that any bacteria on the tongue will eventually be transported to the teeth and gums, just by the natural movements associated with speaking and eating.
So again, it's worth putting some effort into figuring out how to care for your tongue better.
Ways to Clean Your Tongue
There are a couple of ways that you can step up your oral hygiene, as it pertains to your tongue:
Toothbrushing – When you're brushing your teeth, rinse your toothbrush and then finish your cleaning by gently swiping your tongue to agitate any debris or bacteria that may still be there.
Tongue Scraping – A slightly more direct way of addressing your tongue hygiene is to use a tongue scraper. It's designed to gently glide across your tongue and remove food particles and bacteria wedged between the papillae. This also protects the rest of your mouth from the spread of bacteria.
Other Ways to Prevent Bacteria
Your journey for oral health is an ongoing one, so it helps to have all the assistance you can. Here are some other ways to prevent "white tongue" and the growth of bacteria:
Use a soft-bristled toothbrush.
Be sure to brush and floss at least twice a day.
Use a fluoride toothpaste.
Rinse with mouthwash.
Visit your dentist at least twice a year for cleanings and checkups.
By keeping all of the above guidelines in mind, you can be sure to enjoy a healthy tongue and oral cavity for years to come. To schedule a preventive care visit, reach out to your dentist today!
About the Author
After nearly four decades of practicing dentistry, Dr. Dennis J. Horvath still remains passionate about making a change in the lives of his patients. A graduate of the Ohio State University College of Dentistry, he manages to stay abreast of the latest changes in the world of dentistry by maintaining affiliation with several other leading minds in the field. Dr. Horvath practices at the Painesville Dental Group and can be reached for more information through his website.