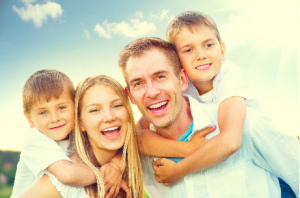 The health of your family's teeth and gums are important to you, which is why you practice proper oral hygiene habits at home. While brushing and flossing are essential, they also need the care from a dentist. Finding the perfect one to care for your loved ones can be a challenge. Everyone has unique oral health needs that constantly change. Not to mention, everyone has different comfort levels. You need a location that will treat your family as their own while delivering superior services. To make the right choice, the are 5 factors to consider when making your selection.

1. Complete Services
Everyone in your home has different oral health needs. To ensure your loved ones benefits from one great dental team, you need a dentist who can cater to everyone's unique needs. In addition to preventive care, you also need a restorative dentist to keep your family's smiles healthy. In addition, choose one who offers areas of specialty, like orthodontics, periodontal therapy, and cosmetic dentistry to meet everyone's needs through all stages of life.
2. Qualifications and Experience
The services your loved ones receive must be complimented by the dentist's training and qualifications. In addition to their general dentistry degree, choose one who has furthered their training to receive additional qualifications. Through their education and experience, they should also be supported by various dental organizations, like the American Dental Association.
3. Atmosphere and Amenities
When it comes to the dentist, every member of your family must feel welcomed and relaxed while in the office. To ensure their comfort, it is best to choose a family-friendly location that is warm and welcoming. By choosing a location that caters to family values, your loved ones will enjoy their dental visits while building a trusted relationship with their dental team.
4. Convenience
When raising a family, your time is busy enough. You need a location that offers flexible office hours to make scheduling appointments easy. In addition to easy access to care, look for a dental office that also offers advanced technologies to streamline certain aspects of your treatments, like same-day crowns with CEREC.
5. Affordability
You do not want finances to stand in the way of your loved ones achieving healthy smiles. To reduce your out-of-pocket expenses, choose a dentist who works with your dental insurance. If there should come a time when your insurance does not cover your treatment, look for a dentist who offers an array of payment options and financing opportunities.
Choose the Best Dentist
When it comes to your family's dental care, choose a family dentist who will make you feel right at home. Take the time to make the right decision for your loved ones.
About Painesville Dental Group
Since 1969, Painesville Dental Group has been committed to providing high-quality care in a comfortable and family-friendly environment. We cater to all patients to create generations of healthy smiles. If you need a dentist who supports family values, contact our office today to schedule your first visit.