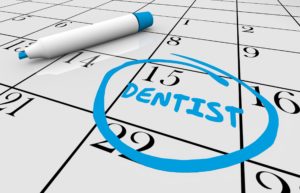 Believe it or not, we are already in the last few weeks of the year. Your dental insurance is the last thing on your mind as you shop for the perfect gifts and plan tasty family meals; however, it should be a top priority. When the clock strikes midnight on December 31st, you're going to lose any remaining dental coverage. With less than 3% of Americans meeting or exceeding their annual limits, you could be throwing thousands of dollars down the drain if you don't visit your dentist before the year ends.

How Does Dental Insurance Work?
Your dental insurance works a bit differently than your medical coverage because you have annual maximums and limits. After paying your monthly premiums, you have access to a specific policy to visit your dentist for minimal out-of-pocket expense.
Although every plan differs, most insurance companies cover preventive appointments 100%. You can see your dentist 1-2 times per year without worrying about a large dental bill. In fact, you'll reduce your overall oral health costs because research shows every $1 spent on preventive care decreases your restorative costs by as much as $50.
Even with the best care, a problem can still occur. You can treat it quickly using your dental insurance. After paying your annual deductible, your coverage can pay 20% to 80% of the treatment's cost until you reach your yearly limit, which is usually around $1,500.
Why Do I Need to Visit My Dentist Now?
Unfortunately, all good things must come to an end. Your dental insurance will expire at the end of the year. If you haven't used all your benefits, you will lose them because they don't carry over for accumulation. You also aren't reimbursed for your premiums, deductible, or allowance if you don't use all your benefits. Essentially, you could lose hundreds to thousands of dollars of unused coverage that could have been used to maintain your oral health.
How Can I Make the Most of My Dental Insurance?
It's often recommended you visit a dentist who is in your network because they have pre-negotiated rates with your insurance carrier. You have the freedom to choose any dentist who accepts your insurance, even if they are out-of-network.
They will work on your behalf with your insurance company to file the necessary forms to maximize your dental plan. You'll have one less thing to worry about as you prepare for the new year ahead.
Schedule an Appointment Today!
Don't wait until it's too late to see your dentist. Keep an appointment at the top of your priority list to start the new year with a healthy, beautiful smile without breaking the bank.
About Painesville Dental Group
Painesville Dental Group strives to provide convenient, affordable services to help our community develop and maintain healthy, beautiful smiles. We offer complete care from one location to reach your oral health goals. Our office accepts many leading insurance carriers to reduce the amount our patients need to pay. If you need an appointment before the end of the year, contact our office today to schedule your visit.