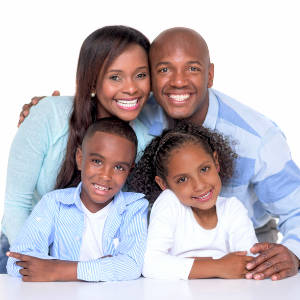 Painesville Dental Group looks after patients of all ages. From preventive dentistry to cosmetic improvements to modern restorations and tooth replacement options, Dr. Dennis Horvath and his  professional colleagues deliver optimal care. Going to this highly skilled Jefferson family dental group is an easy choice to make.
Painesville Dental Group emphasizes preventive dentistry
With Painesville Dental Group caring for your smiles, your family receives services aimed at maintaining optimal oral health and preventing dental problems before they start. This philosophy is key to choosing your best family dentist.
From great kids' dentistry to adult cosmetic treatments to natural-looking restorations and tooth replacements for seniors, this dental group in the Jefferson, Painesville and Chardon area does it all. And, they do it with knowledge and compassion–2 attributes to look for in selecting a dental care provider.
Each patient receives a hygienic cleaning to brighten enamel and remove harmful plaque and tartar, preventing tooth decay and gum disease. Also, the doctors look for:
oral cancer
cavities and periodontal problems
condition of restorations such as fillings, dental crowns and fixed bridgework
bite and tooth alignment
TMJ dysfunction
bruxism (tooth clenching and grinding)
Also, the team values patient education, believing that informed patients take ownership of their oral health. From nutritional questions to smile analysis, Painesville Dental group provides it in a very relaxed atmosphere. Look for patient-centeredness when choosing your family dentist in the Jefferson area.
Your family will love beautiful, precise restorations
Unfortunately, oral health problems happen from time to time, despite watchful dental care.  Is your current dentist equipped to handle restorations and tooth replacements precisely and with an eye to best function and aesthetics? When you choose Jefferson family dentists, you know your are dealing with professionals who are fully accredited in a range of restorative services such as:
tooth-colored fillings
dental implants
CEREC same-day porcelain crowns
bridges and dentures
gum disease therapies
tooth extraction
When you choose a Chardon family dentist, you choose dentists who believe superior restorative dentistry preserves as much natural tooth structure as possible.
Consider cosmetic dentistry
Painesville family dentistry addresses smile aesthetics, helping patients look their best and feel confident when they smile. An excellent Chardon family dentists examines smile gaps, crowding, staining, and misshapen teeth. He or she should be skilled in porcelain veneers, Invisalign clear braces, composite resin bonding and of course, safe and effective teeth whitening.
Does your prospective dentist offer facial aesthetic treatments to compliment a radiant smile? Painesville Dental Group does. Ask about Dysport and BOTOX Cosmetic injectables when you contact the office for a consultation.
Start getting great dental care now
Choose the best for your family's dental care needs. Contact Painesville Dental Group for an appointment. You'll be impressed with the expertise and warm, friendly environment. You'll know you have made the right choice for you and your loved ones.