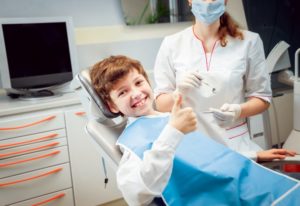 As a parent, it's your job to worry about potential dental emergencies. Whether it's playing rough with the other kids during sports or having one too many sugary snacks, there are many reasons why your child might need an emergency trip to the dentist, and the best way to protect your child's oral health is to make sure such emergencies don't happen in the first place. Here are some tips to help keep your little one's smile safe.
1. Getting a Mouthguard for Sports
Each year, 5 million Americans have a tooth knocked out while playing sports. When this happens, there is only a short time for the emergency dentist to try and save the tooth. To help protect your child from this situation, wearing a mouthguard during physical activities can make a large difference.
There are two kinds of mouthguards that can be used: over-the-counter and custom-fitted. Over-the-counter guards are usually boiled and bitten into in order to fit into the mouth; they're relatively cheaper, but they don't last as long and may not offer as much protection. Custom-fitted ones are created by dental professionals based on personalized molds of the teeth. This level of precision makes them more comfortable and allows them to provide a better defense; they're also much more durable. Speak with your dentist about your child's specific needs to decide which type of mouthguard would be best.
2. Teaching Kids the Right Habits
Your child should be brushing and flossing at least twice a day; when they're old enough to do so themselves, supervise them until you're sure that these behaviors have become habitual. Consider using non-fluoride toothpastes until they've learned to spit after brushing.
You should also make sure that they're not using their teeth in a way that might cause damage. Tell them that they should use scissors or ask an adult to cut or open things; never let them use their teeth to do so.
3. Get Preventive Care at the Dentist
For children and adults, the thorough cleanings and examinations performed at biannual dental visits are important for avoiding tooth decay and gum disease. These appointments can also help identify areas where better care is needed.
Some additional protection may be needed for children who have trouble brushing in certain areas; the molars in the back of the mouth are particularly at risk for decay since food particles and bacteria can get stuck in the crevices. Dental sealants can be a good way to protect these vulnerable teeth and help prevent an emergency caused by an infection.
Above all, keep in mind that good oral hygiene is a daily concern; teaching the right behaviors and taking the right preventive steps are essential. Speak with your dentist about any other ways you might be able to protect your child's teeth, and always have their number ready in case the worst does happen.
About the Practice
At the Painesville Dental Group, a team of dentists provide state-of-the-art care at various locations around northeastern Ohio. Dental sealants, mouthguards, and fluoride treatments are all offered for children, and same-day services in the event of various dental emergencies are provided. To schedule an appointment for yourself or your whole family, visit their website or call (440) 354-2183.