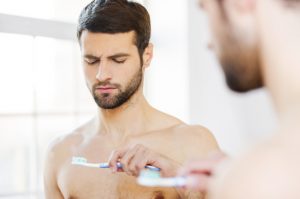 After a long day, the only thing on your mind is climbing into your warm bed. With the stress of the day weighing you down, you often skip brushing your teeth as the only thing you want to do is sleep. Despite the American Dental Association recommending that you brush your teeth twice a day, after a busy day, skipping it does not seem like a large concern because you will just do it in the morning. However, if you do not do it before going to bed, you are opening the door to potential dental issues, like tooth decay and gum disease.

Don't Skip Brushing Your Teeth
Your toothbrush is your first line of defense against tooth decay and gum disease because it removes food particles, plaque, and tartar accumulations, which host bacteria. To keep the buildup to a minimum, it is recommended that you brush twice a day for two minutes each session to ensure that you clean all surfaces of the teeth well.
However, the American Dental Association reports that only seven out of ten Americans brush their teeth twice a day. If you skip it even once a day, you are allowing bacteria and plaque to accumulate in the mouth. This is especially harmful at night because your mouth often becomes dry, which increases bacteria growth, raising your risk for gum disease and tooth decay. Not to mention, plaque sits on your teeth longer, which allows it to turn into tartar. If this occurs, your chance of developing gum disease significantly increases.
Protect Your Smile
After a long day, caring for your teeth can seem like a chore. However, it is vital that you take two minutes before climbing into bed to brush. It is recommended that you use a soft-bristled toothbrush and fluoride toothpaste to achieve the best results.
Hold it at a 45-degree angle and make gentle sweeping motions to clean every surface, including the backside of the teeth. Do not forget to clean your tongue and cheeks to reduce bacteria. The entire process should take about 2 minutes.
If you did not floss your teeth in the morning, it is best to take a couple of extra minutes to clean in between each tooth. By going so, you will help to prevent oral health complications while you sleep so you can wake up with one less worry on your mind.
Get a Healthy Smile Today
In addition to your home oral hygiene habits, you will need to see your dentist every six months for a cleaning and checkup. With the right preventive care, you will protect your teeth and gums to ensure you maintain a healthy, beautiful smile.
About Painesville Dental Group
At Painesville Dental Group, we are committed to keeping smiles healthy. Since 1969, we have provided comprehensive care to help our patients reach their oral health goals in our comfortable and caring office. If you have any questions about your oral hygiene habits, please contact our office today to schedule a consultation.