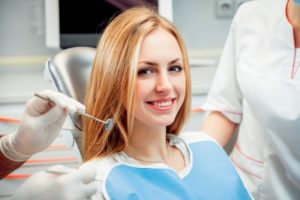 Going to the dentist can sometimes fall off the list of high priorities. You know going to the doctor is important to make sure your overall health has the green light, but what about the dentist? Don't you want to make sure your teeth, gums, and oral health are in check? If you need a bit more convincing, here are six reasons you should schedule an appointment to see your dentist.
No More Holes: Cavity Prevention
So, you think you're reaching every crevice of your mouth by brushing and flossing? Guess again. Your dentist will be able to get to these hard to reach areas, removing plaque and tartar buildup. If a cavity begins to form, your dentist will need to fill it to prevent further issues; however, with regular dental visits, you can take care of any buildup before it turns into a cavity. Plus, fillings are expensive, and I'm sure you'd rather spend that money on something more special.
Soft Tissue Seriousness: Gum Disease
Along with cavities comes gum disease. If you don't see your dentist on a regular basis, the plaque and tartar that is working into the enamel and creating holes (cavities) are also burrowing above and below the gum line. What might start as gingivitis (and can be reserved if caught early) can quickly advance into a more aggressive form of gum disease known as periodontitis. This can cause severe bone deterioration and tooth loss, which can result in additional time and money spent on restorations.
The Dreaded "C" Word: Checking for Oral Cancer
Early detection is key when dealing with this serious disease. Regular dental visits enable your dentist to check for signs and symptoms related to oral cancer, allowing for successful treatment if detected. Undergoing a VELscope Cancer exam is pain-free and lasts a short time (minutes), and it catches invisible signs of dead tissue that is caused by tumors.
Enough with the Nail Biting: Checking for Bad Habits
Do you like to eat lots of sweets? Do you smoke? Maybe you bite your nails or grind your teeth? All these bad habits can wreak havoc on your teeth and gums, which is why your dentist will want to see if your oral health is being affected by your destructive ways. While you may not think what you're doing has negative consequences, it does. Your dentist will inform you of ways you can change your lifestyle choices to keep from further damaging your teeth and/or gums.
Underneath the Surface: What X-Rays Show
Every six months, your dentist may want to take new x-rays to determine if there are any underlying issues only the x-ray can pick up. Looking beneath the surface of your mouth, the professionals can diagnose problems that you cannot see just by looking at your teeth. From impacted teeth to jawbone decay or swelling can be seen via an x-ray. Many of the cases dentists find as a result of an x-ray are best dealt with as soon as possible. Proper treatment cannot occur if you avoid the dentist office for your regular appointments.
The Other Parts: Head, Neck, and Lymph Nodes
Your teeth, gums, and tongue won't be the only areas your dentist will check during an appointment. Your head, neck, and lymph nodes are also important because of the connections that exist between each and your oral health. Any swelling, lumps, or abnormalities beneath the jawline are causes for concern and could be considered a major health issue. If your lymph nodes are swollen, it could mean cancer or another disease that needs immediate attention.
Now that you understand just how important it is to see your dentist on a regular basis, maybe you should pick up the phone. Not only will a trip to the dentist office keep your oral health in check, but it could just save your life.
About the Practice
Offering comprehensive dentistry services, Painesville Dental Group is your one-stop-shop for all your family's dental needs. Need a general cleaning but it's been a while? Don't worry! Our team of professionals go out of our way to ensure you feel comfortable and receive the care you deserve. To learn more about us, visit our website or call (440) 354-2183.