October 4, 2020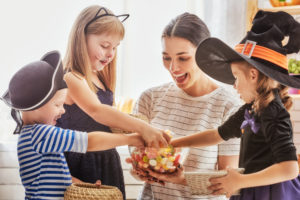 Do you know what dentists find scarier than witches or vampires? Cavities! Halloween typically means families have more candy around the house than usual. If you are not careful, snacking on all that sugar can lead to an increased risk of tooth decay. However, you do not have to give up sweet altogether! Just follow these 5 Halloween candy tips from your local dentist to protect your smile during the spooky season.
#1: Avoid Snacking
Avoid snacking on Halloween candy at random points throughout the day. Instead, try to eat your treats alongside or shortly after a meal. Your body naturally produces more saliva when you eat a full meal, which helps protect your teeth by rinsing away bits of food and sugar.
#2: Keep Sugar Away from Your Teeth
While most Halloween candy contains a lot of sugar, some sweets are more dangerous for your smile than others. For instance, sticky candies can often stay stuck to teeth for a long amount of time. This gives the bacteria in your mouth more opportunity to feed on the sugar and create acids that harm teeth.
To keep sugar away from your teeth while still enjoying your holiday treats:
Opt for chocolate or powdery candies that dissolve quickly
Take frequent sips of water to help wash away sugar particles
Brush your teeth and floss about 30 minutes after eating candy
#3: Chew Sugar-Free Gum
Chewing sugar-free gum for 20 minutes can also help increase saliva flow. As mentioned above, saliva helps wash food away from teeth and neutralize the acid produced by oral bacteria. If you do find yourself snacking on Halloween candy, pop a piece of sugar-free gum into your mouth afterward to help reduce the risk of cavities.
#4: Donate Excess Sweets
If your family has collected a generous amount of Halloween candy this year, why not donate a portion of it to charity? You can brighten someone else's day by partnering with organizations such as Operation Gratitude, which delivers excess Halloween candy to first responders and U.S. troops overseas. In addition, many dentists will happily trade a new toothbrush for Halloween treats through their candy take-back programs. Ask your dentist for more details!
#5: Don't Be Afraid to Visit Your Dentist
There is a reason you do not see many dentist costumes on Halloween. Dentists are not scary! So don't be afraid to schedule a routine checkup with your dental professional this fall. Preventive dental exams and professional cleanings are critical to maintaining a healthy smile, according to the American Dental Association. During every checkup, your dentist will carefully inspect your teeth for signs of cavities. Catching tooth decay and other minor issues early on is important to preventing them from growing into bigger, scarier problems in the future!

You can still celebrate all the fall festivities without worrying about tooth decay. Just follow the 5 tips above to enjoy a healthy Halloween!
About the Practice
The Painesville Dental Group offers state-of-the-art dental care for patients of all ages, including young children. Their expert team of dentists provides a full range of preventive treatments at their four convenient locations. For more Halloween candy tips, visit the Painesville Dental Group website or call 440-354-2183.
Comments Off

on 5 Halloween Candy Tips from Your Local Dentist
No Comments
No comments yet.
RSS feed for comments on this post.
Sorry, the comment form is closed at this time.