January 19, 2021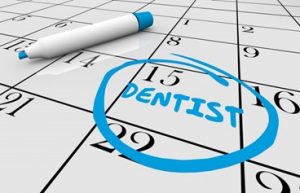 If you've thumbed through your calendar at the end of the day only to realize that you forgot your dental appointment, you're not alone. If you don't have a pressing dental issue, it can be easy for a dental checkup to slip your mind. However, skipping visits to the dentist is not something you want to make a habit of. Read on for 4 ways to remember your dental appointments.
Smartphone Reminders
If your dentist sends you emails to remind you about upcoming appointments, there is often an option to automatically add the reminder to your calendar. If your phone doesn't have this option, you can also manually type in the appointment in the calendar on your phone. Having multiple reminders is always a great idea, so setting a reminder every week leading up to your appointment is another way to make sure you keep your appointment.
Write It Down
Smartphones are the tools most often used to schedule reminders and appointments. But if you're more partial to daily planners or desk calendars, writing down your appointment on either of these tools is a great way to keep track of your dental appointments. Using items that you frequently use to remember appointments is the best option. You might want to consider writing down additional reminders a few days or weeks leading up to your appointment, so it doesn't surprise you.
e-Calendars
If you find yourself frequently using Google Workspace or an Outlook Calendar for work, writing in your appointment with a few additional reminders is another great way to manage your schedule. Their taskbars and to-do lists give you the ability to schedule appointments days, months or even years ahead. If this is the option you choose, it's best to use a calendar that has the ability to sync across multiple devices like your phone, tablet and computer. This way, no matter which device you're using, your reminders will be able to reach you.
Schedule an Appointment for the Family
Family dental appointments can be easier to remember than multiple appointments staggered throughout the month. Not only will it save you the stress of keeping track of multiple visits, but it will also save time. Another benefit of a family appointment is that everyone can work together to remember the date and time of your checkup!
Regular dental exams and cleanings are crucial to maintaining your oral health. It gives your dentist the opportunity to catch problems before they progress into something worse. Not having dental issues is great; keeping your dental appointments can help things stay that way!
About the Practice
The team of dentists at Painesville Dental Group provides patients of all ages with high-quality, personalized dental care. Every dentist has attended some of the most prestigious educational institutions in dentistry. They also are committed to growing their skillsets through post-graduate training. Their services include preventive dentistry, restorative dentistry, TMJ/TMD therapy and more. If it's time for a dental checkup, visit the website or contact the office at (440) 354-2183 to schedule an appointment today.
Comments Off

on 4 Easy Ways to Remember Your Dental Checkup
No Comments
No comments yet.
RSS feed for comments on this post.
Sorry, the comment form is closed at this time.