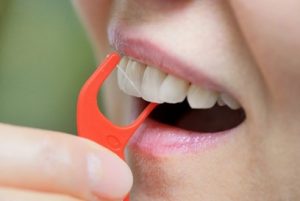 The moment something gets stuck between your teeth, you probably feel a consuming need to remove it. According to the American Dental Association, Americans have used many strange and dangerous items to get rid of items between their teeth, including cutlery, safety pins and even a strand of hair! Of course, you want to remove wedged-in debris, especially if it's painful, but here are 4 safe and simple ways to remove particles without putting your teeth and gums at risk.
Use Your Tongue
Your tongue is a safe and convenient tool that can help free debris from the spaces between your teeth. However, you will want to be careful not to strain it. Your tongue is one of the strongest muscles in your body, but over-working it can cause TMJ issues, tongue or jaw pain and make it difficult to eat or speak.
Swish Water Around in Your Mouth
If food gets stuck between your teeth while at dinner or on a date, the last thing you will want to do is pick your teeth while sitting at the table. An easy way to deal with this issue is to take a sip of water and push the liquid through the spaces between your teeth. This will help dislodge food without risking dental damage.
Floss (Gently)
Dental floss was specifically designed to remove anything that gets between your teeth, so naturally, it is a great tool to remove wedged-in particles. But it is important to remember to floss gently. Flossing roughly may push the item tighter into the crevice or deeper into your gum line. Using gentle, controlled movements, you should be able to remove the item with ease.
Try a Toothpick
Wooden and plastic toothpicks aren't the best choice for everyone, but they can be effective in sliding the particle firmly and slowly out of position. If the item between your teeth doesn't move, try flossing or rinsing again.
When something is stuck between your teeth, it can be painful or, at the very least, quite uncomfortable. Using any of the listed items can provide relief with little to no risk at all, so knives, needles, safety pins and strands of hair are not necessary. If you end up with a particle that you can't remove, it is a good idea to contact your emergency dentist for help.
About the Author
The team of dentists at Painesville Dental Group are committed to ensuring that every patient receives top-quality, personalized dental care. No matter which practice you visit, the team of doctors at each location possess decades of experience and the ability to treat and protect the smile of any patient who enters their doors. If you get something caught between your teeth and are unable to remove it on your own, Painesville is able to provide emergency dentistry. Simply contact the office at (440) 354-2183 or visit the website to set an appointment.